Tuesday, 12 march 2019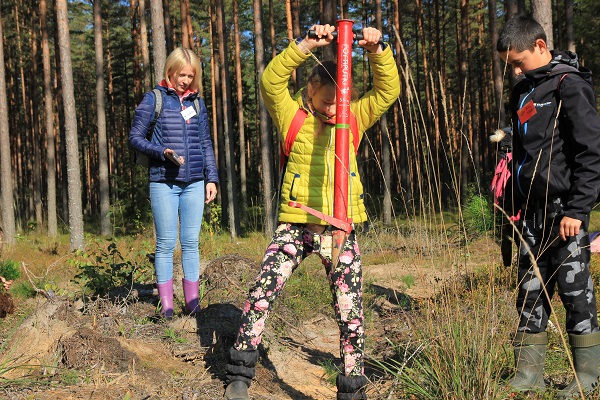 Latvia is a country, who has always respected forest – we sing about it, we relax in it, work and, of course, we keep learning about it. This year as well, the JSC "Latvijas valsts meži" (LVM) invites all nature friends to register for participation in the Open Forest Days.
The Open Forest Days is an event cycle filled with traditions, which is organised with an aim to not only spend time in forest clean-ups, but, mainly, to promote deeper understanding of society about responsible and sustainable forest management. This year forest clean-ups, improvement of recreational places and forest planting works will take place in all regions of LVM.
We remind that participants have to provide their own transport to the location of the event, also snacks, work gloves and clothes suitable for forest. We also encourage to register for events in advance, because each region will have a limit to number of participants – up to 40 people, therefore, priority will be given to those who have registered first at the contact persons bellow.
LVM OPEN FOREST DAYS 2019
Region

Date

Contact person

Phone

E-mail:

Activities planned:

East Vidzeme

26.04.

Edijs Jundzis

25495586

This email address is being protected from spambots. You need JavaScript enabled to view it.

Clean-up, meeting at the Litene municipal administration office

04.05.

Kaspars Spirks

29174769

This email address is being protected from spambots. You need JavaScript enabled to view it.

Kārķi Forest Days

West Vidzeme

09.05.

Vilmārs Katkovskis

29272155

This email address is being protected from spambots. You need JavaScript enabled to view it.


Salacgrīva forest district, Dižozols tract of forest. Improvised forest expedition, recultivated Ēkaji sand pit, symbolic forest planting

16.05.

North Latgale

20.04.

Mārtiņš Gabranovs

29499434

This email address is being protected from spambots. You need JavaScript enabled to view it.

Kārsava forest district, Ruskulova park clean-up

20.04.

Aleksandrs Semeņuga

29181391

This email address is being protected from spambots. You need JavaScript enabled to view it.

Ludza forest district, Garbari forest clean-up

South Latgale

16.05.

Andris Čikuts

29123771

This email address is being protected from spambots. You need JavaScript enabled to view it.

Viesīte forest district, forest planting

17.05.

Aivars Litiņš

29156743

This email address is being protected from spambots. You need JavaScript enabled to view it.

Svente forest district, forest planting

Middle Daugava

23.04.

Inese Zvirgzdiņa

65161540

This email address is being protected from spambots. You need JavaScript enabled to view it.


Skaistkalne forest district, demonstrations in practical forestry, planting container-grown seedlings

30.04.

Zemgale

18.04.

Guntis Dišlers

29181738

This email address is being protected from spambots. You need JavaScript enabled to view it.

Engure forest district, clean-up of surroundings, forest planting

12.05.

Andis Apse

29443561

This email address is being protected from spambots. You need JavaScript enabled to view it.

Jelgava region Mežciems area, clean-up of surroundings, forest planting

North Kurzeme

09.05.

Andris Verners

67805075

This email address is being protected from spambots. You need JavaScript enabled to view it.


Clean-up of Dundaga Oak Park and its surroundings

25.04.

Cultural heritage sight of 2019 in the North Kurzeme region Clean-up and landscaping of the territory

South Kurzeme

25.04.

Kārlis Altītis

29181074

This email address is being protected from spambots. You need JavaScript enabled to view it.

Nīca forest district, clean-up of territory

30.04.

Mārtiņš Reķis

27857668

This email address is being protected from spambots. You need JavaScript enabled to view it.

Pampāļi forest district, forest planting
Events dedicated to Forest Days will take place all year long. Already on the May 24 and 25 the LVM Nature Park in Tērvete will hold the largest forest industry event in Baltic States "Forest Days of Latvia". During the large event youth and adults are welcome to participate in more than 80 forest education stops that will be provided by various organisations connected with forest industry and nature.
However, in autumn 6th grade students in all Latvia are invited to participate in the LVM Forest Expeditions, during which, together with knowledgeable forest industry experts, they will have a chance to get to know the full cycle of forest management, and also learn in what unusual objects wood can be found in.