About the LVM Lake Kaņieris
The LVM Lake Kaņieris in Lapmežciems is one of the richest lakes in Latvia in terms of bird and fish stocks. It is frequently visited by anglers and bird watchers. The most caught fish in the lake is pike, followed by tench, roach, rudd, bream, crucian carp, silver carp and perch.
Kaņieris is a lagoon-type lake formed after the retreat of the Littorina Sea and is a protected natural object which is included in the territory of Ķemeri National Park.
There are 14 islands in the lake, which have been chosen as a place of rest by water birds. In total, more than 200 bird species have been identified in Lake Kaņieris (a total of 342 bird species have been registered in Latvia). The lake is included in the list of important bird areas in Europe. But since 1995, Kaņieris has become the Wetland of International Importance - a place of special importance for water birds.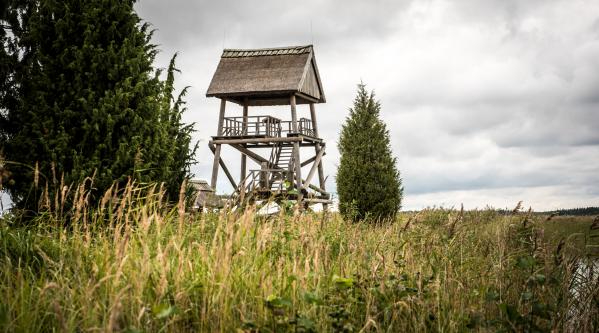 The lake is shallow, with a maximum depth of 1.8 meters, but its average depth is less than one meter. The best time for bird watching in Lake Kaņieris is spring and the period from the second half of summer to the first half of autumn – the end of September. Visitors can be out in the spring or early summer night to listen for nocturnal birds. Here they can hear great bitterns, reed warblers and grasshopper warblers, if successful, also spotted crakes and water rails, now and then – little bitterns. During the day there is a chance to watch a hunting sea eagle.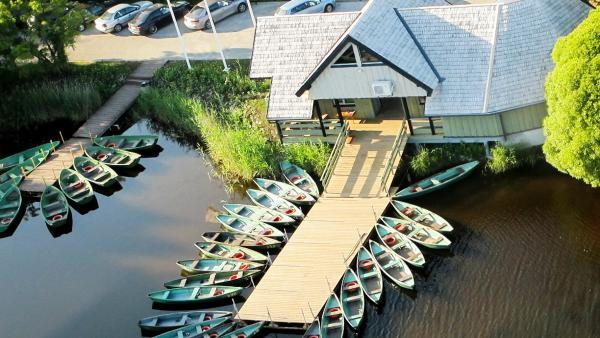 For the convenience of anglers and vacationers, a boat station has been set up on Lake Kaņieris. The well-maintained and modern boat station of Lake Kaņieris is equipped with a parking lot, a boat house and WC. More than forty boats are offered for rent here, including pedal boats and SUP boards. Please note that fishing on the lake is only allowed from the boats rented at the boat station. Picnic areas have also been created in the surrounding area of the lake.
The presence of any floating structures in the LVM Tērvete Reservoir without coordination with the JSC "Latvijas valsts meži" is prohibited!