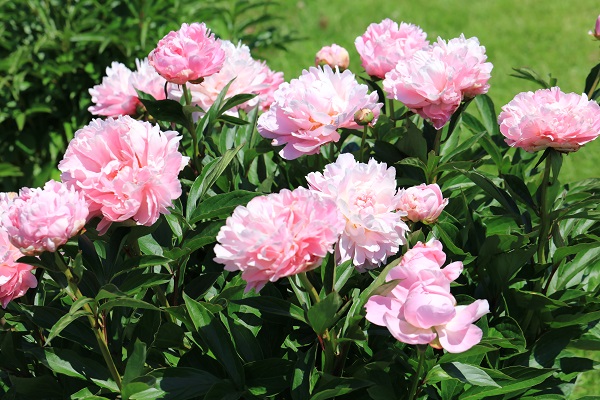 The most beautiful gardens of blooming collections in Latvia invite you to go on flower paths. Blooming of lilacs in Dobele, The Experimental Rhododendron Breeding Nursery "Babīte" of University of Latvia, "Latvia's State Forests" Kalsnava Arboretum's peony garden and the magic of Rundāle Palace Museum roses are calling to the roads, paths and paths this spring and summer. The campaign "Paths of Flowers" invites you to visit four gardens, indulge yourself in the language of soul blossoming, discover new pearls of Latvia and capture the fabulous emotions of colours. "Latvia is a wonderfully beautiful land, but the beautiful must be helped to appear", said famous Latvian poet Imants Ziedonis.
Along with the active tourism season, the spirit of adventure, discoverers and travellers awakens. Grab the coupon for the " Paths of Flowers" promotion and go explore four different gardens and parks of blooming collections!
Go to the lilac metropolis Dobele, where you can see one of the world's largest lilac collections in the lilac garden of the Institute of Horticulture. Lilac flowers interspersed with cherry, apple and other fruit tree blossoms, cultural programs, and the joy of meeting.
The flower clusters of rhododendrons in Babīte with more than 40,000 blooming wild species and breeders' varieties, bright bushes invite you to go on a 1.5-kilometer fairy-tale walk. This Pearl of Pierīga allows you to enjoy a leisurely, quiet, bright, and family walk.
In the picturesque Madona region of the Vidzeme highlands, the brightly blooming garden of the LVM Kalsnava Arboretum with more than 400 peonies blooming and their bouquet of colours, a wide June cultural program invites you to capture the various emotions and bright moments in June.
The outstanding pearl of baroque and rococo architecture - Rundāle Palace - and its blooming divas - roses, the palace ensemble and the walking trails are fascinating! A wide variety of selections in colours, shapes and other nuances can be seen in an amazing collection of scents on an area of one hectare.
The " Paths of Flowers" campaign is about the joy of discovery and meeting. Tour all four blooming collections, collect stamps and delight yourself with a surprise prize! The " Paths of Flowers" promotion lasts from May 1 to June 30.
Promotion coupons can be obtained at the information centres of these objects or at the venues of the thematic celebrations.
For information and communication:
The lilac garden of the Institute of Horticulture, Graudu street 1, Ceriņi, Krimūnu parish, Dobele county, LV- 3701, +371 29196201, +371 25450555 , This email address is being protected from spambots. You need JavaScript enabled to view it.
The Experimental Rhododendron Breeding Nursery "Babīte" of University of Latvia, "Rhododendri", Spilve, Babites parish, Mārupe county, LV-2101, +371 67913127,This email address is being protected from spambots. You need JavaScript enabled to view it.
LVM Kalsnava Arboretum, "Ogu ives", Jaunkalsnava, Kalsnava parish, Madonas county, LV-4860, +371 27841099, +371 25718538, This email address is being protected from spambots. You need JavaScript enabled to view it.
Rundale Palace, Pilsrundāle, Rundāle palace, Rundāle parish, Bauska county LV-3921, +371 26499151,This email address is being protected from spambots. You need JavaScript enabled to view it.