Health needs to be taken care of in all seasons, but especially during winter. February is the right time to replenish vitamin reserves exhausted during the winter and to gain energy for new adventures and works.
In the territory of nature park Tērvete of the Latvian State Forests it's possible to see a unique pine forest with the oldest and longest pines in Latvia, the age of which is close to 300 years. The pine is a talented healer, every branch holds a recipe. Go after a lot of health to mammasdabas first aid kit of forest! Tradicional immunity boosters, such as honey, infusions of pine buds, pine needle tea and berries, will help to improve health in a natural way during the winter.
This month we can start collecting pine buds un preparing health-enhancing and healing infusions! Pine buds are one of the first sources of health in spring. Herbs have a strong anti-inflammatory, bactericide, broncholytic, diuretic and pain relief effect. These herbs also help to expectorate, stimulate contractions of gallbladder and digestion. The resinous and fragrant pine buds are a real ball of energy and vitamins – they contain a great power!
Pine buds can be used in different ways. They can be boiled in syrup, used in soothing baths, eaten fresh or added as a powder to meals once dried and grinded. In spring, pine buds have a light, fresh citrus and resin flavor, slightly resembling mango. Chefs often use them to make new culinary masterpieces. It has been heard that they can be used to make ice cream, jam and even beer. They fit well as an additive in green salads. Gourmands will enjoy taste of the healthy snack – pine cones in chocolate. Give it a try – your taste buds will appreciate it!
Before harvesting pine buds, it is worth mentioning that it is strictly forbidden to buds in young forest stands, especially from the tops of young pines. It damages the tree and disturbs its growth. By pinching the buds in the lower branches of the pine, no damage will be done to the tree. It is best to collect the buds from the trees intended for felling or the one cut down. Be careful not to damage the forest. The buds to be collected are pinkish-brown, resinous, firm, and dense. At this time, they have barely swollen, but have not begun to grow and open. To avoid resinous hands while collecting buds, gloves will be useful.
There are many ways to make an infusion of pine buds. One of the easiest ways to infusion is in a thermos – pour 1 tablespoon of buds into a glass of boiling water, allow to linger overnight, drain it in the morning and drink 1/3 cup 3 times a day before meals. Prophylactic use of pine infusions boosts the immune system, reduces the risk of colds and viral illness. In case of illness, it alleviates symptoms of cough and upper respiratory diseases. It could be used as an expectorant and disinfectant in chronic bronchitis and other lung diseases. To diversify the taste, you can add some lemon, orange peel, and other teas or juices.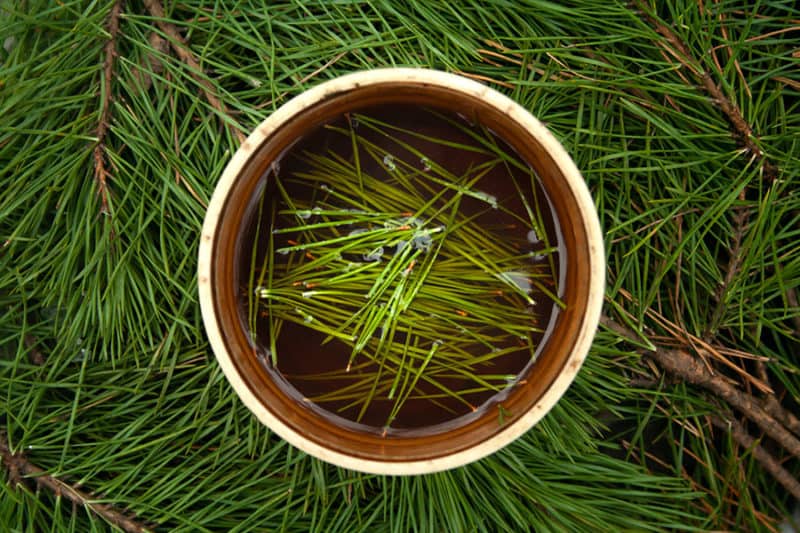 Pine bud syrup will be a good assistant in a first aid kit during a cold. To prepare it, take one part of buds and two parts of water, boil for 15-20 minutes in saucepan with a lid over on low heat. After that, cool and drain the liquid. Add 2 parts of sugar to 1 part of the decoction and bring to the boil while stirring. Fill it into small containers while its hot. To boost immunity, take one tablespoon in the morning.
It is worth noting that vitamin drinks should be consumed only if you are sure about the health of your kidneys. These drinks are diuretic and strongly stimulates the kidneys.
Aromatic, fresh pine needles and buds are used for soothing, nervous system relaxing baths. Boil the plants in a small amount of water for 10 minutes, set and strain. If you want, you can also add some mint. Add the prepared decoction to the bath water. The recommended duration of the bath is 10 – 15 minutes.
A pine needle scrub will suit the restorative sauna rituals. To prepare it requires a glass of fresh, washed and ground pine needles, mixed with a handful of salt. Scrubs are used in the sauna after the first heating. If you want the scrub to softer, you can add pea flour, ground oatmeal or a spoonful of clay. The scent of pine relieves stress, helps with insomnia and melancholy.
Pine brooms are also suitable for bathing in the sauna. Pines have a light, lively and bright energy. Both tree branches and needles can be used during the sauna ritual. The needles can be used to make an infusion that can be used to add some steam in sauna or for warming feet baths. Using the pine brooms in sauna improves blood circulation. As the pine needles are sharp, soak the broom in hot water before steaming and keep it above the sauna stones – the needles will become softer and smell like natural resin turpentine.