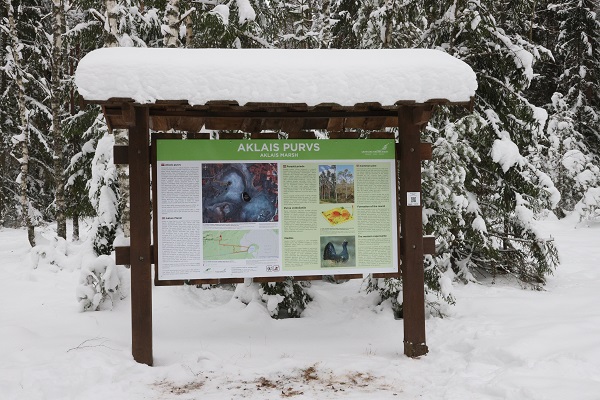 Winter this year has been gracing us with voluminous snowdrifts, and you can see what the marsh looks like at a time like this by going to Aklais marsh in the forests of Daudzeses parish. JSC "Latvia's State Forests" have put up new informative signs on the walking route.
The walking route of the marsh is almost 3 km long, and a walk there will let visitors not only enjoy the breathtaking scenery of the marsh, but also gain a lot of new information from the informative tablets about the environment of marsh and natural values found there – plants, berries, birds, dragonflies, and the perch that is living in the lake of the marsh. The trail leads along the river to the lake of Ģirupe.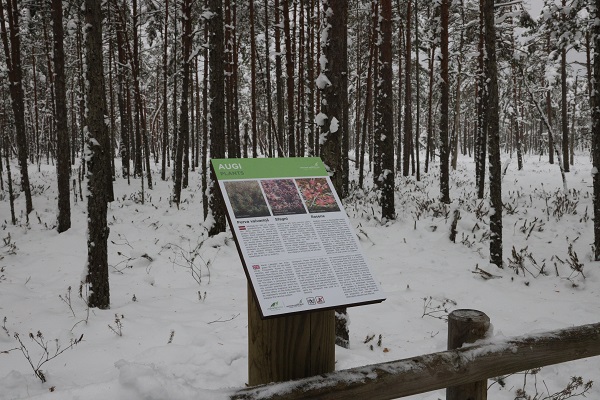 Aklais or Jūga marsh is in the Nature Reserve Daudzeses parish, in Aizkraukle, and its total area is about 2003 hectares. Aklais marsh and lake of Ģirupe have gained their names from the homes that used to be there. In 1999, in the marsh, was created a Nature Reserve which in 2004 was included in the list of territories of Natura 2000.
In the forests of Latvia, there are created and freely available about 290 resting spots, 134 footbridges, 10 bike paths that are about 125 km long, and 90 nature trails that are 220 km long, including footbridges in the marsh, as well as watchtowers and platforms for bird, marsh viewing.