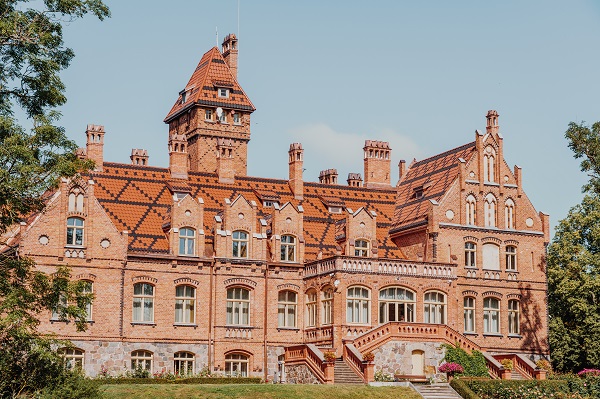 After the long work of nine months, the change of Jaunmokas Palace roofing is finished, thus restoring its historical appearance. At the moment, the palace is decorated by two colored roofs with an ornament which is made of red and black clay tiles and several roof constructions, as it was initially supposed to be by the palace designer Wilhelm Bockslaff.
The change and renovation of the roofing began at the end of 2021. Construction works happened in stages, without interrupting the work and accessibility of the palace for visitors. As a result of the procurement tender, the construction works were carried out by SIA "ReRe Meistari", attracting experienced specialists in the reconstruction of historical objects. Some works included the renovation of the roofing construction, complete change of the tiles, renovation of chimney walls, set up of tin coating and interface... The project was developed by the architect Ināra Caunīte and her team (SIA "Office of the Architect Ināras Caunītes"), which this year was awarded the Order of Three Stars for the preservation of architectural heritage. In the project, the original ornament of the roof covering was reconstructed from red and black clay tiles. The ornament of these colors has also been preserved in the brick facade of the palace, thus currently forming a unified composition. The total costs of construction work compiled up to 474 647. 25 EUR.
"This is the biggest restoration project for Jaunmokas Palace since the 80s. Back then, the previous roofing was repaired for the last time with tiles of different origins and wear. Therefore, we are currently very pleased with a completely new roofing, which will make a significant contribution to the further preservation of the building. In the course of the work, the most sustainable roofing solutions were chosen, as well as a very precise masterwork, which can be seen and appreciated from the outside, without actually being on the roof itself. This is a double benefit for the architecture of historical buildings in Latvia – both the preservation of the palace and the reconstruction of its historical appearance," comments Aiva Logina, a member of the board of the Jaunmokas Palace.
Over the years, both the owners of the palace and the purposes of its use have changed many times, and the historical appearance of the castle roof was also lost due to various periodic repairs. Currently, the castle is managed by SIA "Jaunmokas palace", which is a subsidiary company of JSC "Latvia's State Forests".