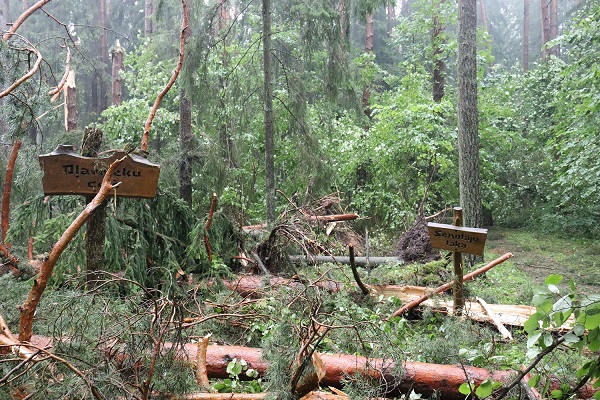 On August 7, a powerful storm raged in Latvia, causing significant damage to the Latvia's State Forest nature park in Tērvete. The walking paths are not safe for visitors, so the park is closed for visiting until the damage is assessed and the dangerous trees are removed. Active work is currently underway so that the LVM Tērvete nature park will soon be open to visitors again.
Until August 9, the drivable parts of the main roads of the LVM nature park in Tērvete will be cleared of fallen trees. Current estimates show that the storm felled around 3,000 to 4,000 trees in the park area. Since some of the trees are broken or stuck between other trees, it is necessary to use appropriate logging equipment for their safe removal. Now, it is dangerous to be in the territory of the park, and the park will be opened to visitors after the removal of the fallen trees and the completion of the cleanup work. The cleanup is expected to take at least two weeks.
The felled and broken wood collected in the park area will be used for the beautification of the nature park - gazebos, benches and other necessary tourist infrastructure will be prepared in the Tērvete carpentry workshop.
The biggest damage from the storm is downed trees, as damage to infrastructure is generally not significant. Of the buildings, the roof of the information center and the inventory rental building was slightly damaged. Also, the roof and railings of the pedestrian bridge over the road are damaged, but all these structures are safe for operation. The gnome town "Čiekure", which is popular with visitors, survived the elements without damage, and no significant harm was found to the small wooden houses and sculptures in the gnome village.