Lielauce lake camping and boat base managed by JSC "Latvia's State Forests" invites not only experienced fishermen, but also those who crave closeness to nature, silence, and peace! Here you will experience magnificent sunsets and sunrises, evening fog and morning haze.
In LVM Lielauce Lake, the possibility of catching a good catch is high, as the fish stocks are replenished almost every year. There are 16 species of fish in the lake, it is rich in tench, perch, and pike.
If you are not an avid fisherman, Lielauce Lake camping is a great place to enjoy relaxation in nature and the opportunity to spend the night in a cabin in the middle of the lake. Four floating holiday houses with small terraces are offered for overnight stay. Two of them can be reached by boat and are located approximately 100 and 300 m from the boat base. What could be nicer than relaxing on a hot summer day in a cabin gently swaying in the waters of the lake and listening to the sounds of nature. Here you can sit carefree on the terrace of the house and soak your feet. This place is as if it was created for fans of a quiet, peaceful vacation - you won't have to worry about loud vacationers in the neighbourhood. Here, your peace can only be disturbed by a pair of swans or the splashing of curious larks. The graceful swaying of the waves will be able to enter even those afflicted with insomnia.
JSC "Latvia's State Forests" boat base offers fifteen boats, standup paddle (SUP) boards and water bikes for active recreation on the water. There are also well-equipped recreation areas available in the area.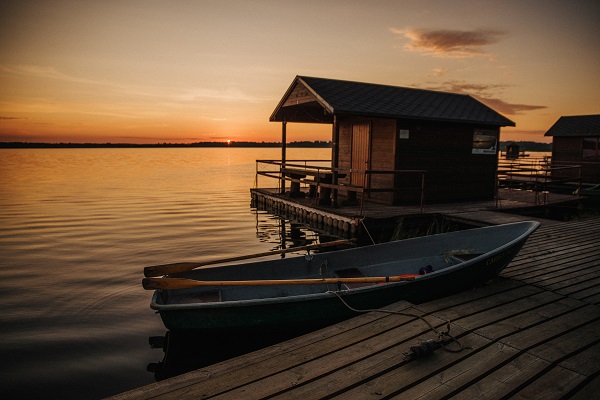 LVM Lielauce lake has marshy shores, it is surrounded by the Vīķu marsh. It cannot be reached with dry feet, so long footbridges have been built to reach the shore of the lake. The average depth of the lake is 1.5 meters, and the maximum depth is 3.5 meters. It is worth knowing - LVM Lielauce Lake is part of the Vīķu marsh nature reserve.
Lielauce Castle rises on the high shore of the lake among the old trees of the park, to the delight of those who enjoy the scenery and vacationers. Here you can go for a scenic walk in the nearby area. On the other hand, bird watchers can try to see the osprey hunting over the lake, as well as other nesting and migrating water birds.
Phone for inquiries and reservations: +371 26556771.